My first C# WPF custom docker
Full post at
http://forum.oberonplace.com/showthread.php?t=24647
Used internally in our workshop
Plixo, in Singapore
, to
laser cut
parts for boxes.
With this docker you can configure width, height, depth, material thickness, kerf, bottom and top existence and position, and just generate the optimized cut.
The docker: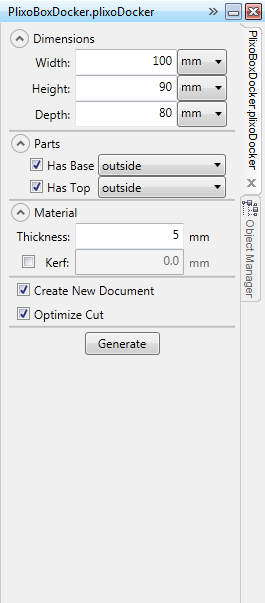 Full details in this thread :
http://forum.oberonplace.com/showthread.php?t=24647
Find attached the dll zipped , to be installed in your Add-on folder. Original file also avail for download here :
PlixoBoxDocker.dll
Here is the VBA code to add the docker to CorelDraw, you will have to modify path according to your installation [will work on an installer later]:
Sub AddPlixoBoxDocker()
Dim dockerAssembly As String
dockerAssembly = "C:\Program Files\Corel\CorelDRAW Graphics Suite X6\Programs64\Addons\PlixoBoxDocker\PlixoBoxDocker.dll"
Call FrameWork.AddDocker("930ED04A-1EE5-4F37-BF06-8F9A5820262E", "3D Box", dockerAssembly)
Call FrameWork.CommandBars("Dockers").Controls.AddToggleButton("930ED04A-1EE5-4F37-BF06-8F9A5820262E", 0, False)
End Sub
Feel free to provide feedback either on this forum or by email at
dev@plixo.com.sg
.
Just thanks us is useful via a like on our page, on facebook or with a link to any of our services